About the Artist
Artist's Statement
Since the beginning of the industrial revolution our species has been systematically severing its roots to the earth, our natural habitat and the wellspring of our life and spirit. I find that spending time outdoors, becoming familiar with local habitats, flowers and animals, photographing them and depicting them in watercolor and oil paint helps me to feel at one with my source as well as, hopefully, sharing that feeling with others who never have had time or interest in the wild places left to us or the creatures that inhabit them. I wish my art to change the widely-held perception that 'man-made' objects and pursuits are the only reality. Much of the angst and alienation in our culture, especially among young people may be caused by this severing of our roots and reliance on indoor man-made pursuits instead of spending time outdoors in the natural world that served to lift the spirits of the generations before us.
My paintings attempt to present Nature in such an intriguing and magical way that people who see my work will be inspired to visit, respect and support the remaining wild places. I find that in doing my paintings: earlier naturalistic renderings of birds, trees and flowers and lately, combining wild natural images with some human and graphic elements, I better understand how we are one with our environment and am just beginning to see new and exciting ways of presenting these ideas.
I work mostly in watercolor, with occasional forays into colored pencil, pastel and oil. Watercolor has a certain brilliance that works well painting natural subjects as well as being non-toxic and less messy than oil but I want to work larger, which means more work in oils in the future.
EXHIBITIONS
2012 American Watercolor Society Exhibition, NYC
2011 DSWPS River Gallery exhibition, Chelsea, MI
2011 Paint America Top 100
2011 MWCS Annual exhibition
2010 Michigan Watercolor Society Annual, Forum for Prints, Drawings and Photographs, DIA Award
2010 Michigan Fine Art Competition, BBAC
2009 Detroit Society Women Painters & Sculptors Annual Gloria Goeddeke Award
2009 Best of Show, Warren Art in the Park
2008 White House Michigan Christmas Ornament
2008 Watercolor USA, Springfield Museum of Art
2008 Michigan Watercolor Society Annual Show
2008 Michigan Annual XXXIV Exhibition
2007 U of M Dearborn Open Competition 2007
2007 Michigan Annual XXXIII Exhibition
2007 Solo Exhibition Renaissance Unity, Warren, Michigan
2007 Michigan Watercolor Society Annual Show
2006 1st Place Kubinski Art Competition, Orchard Lake, Michigan
2006 Birmingham Community House 'Our Town' Silver Award
2006 Michigan Watercolor Society Annual Show
2006 Solo Exhibition Renaissance Unity, Warren, Michigan
2006 Transparent Watercolor Society of America Annual Exhibition
John C. Dioszegi Memorial Award
2005 1st Place-- Painting, Drawing, Pen & Ink, Shelby Twp. Art Fair
2005 'Lure of the Local' Exhibit, River Gallery, Chelsea, Michigan
2005 Art Supply Warehouse Cover Artist
2005 Martin County Annual, Stuart, Fl
2004 Best of Show, Grosse Ile, Michigan, Islandfest
2004 Michigan Watercolor Society Annual Show
2004 Art Supply Warehouse Cover Artist
2004 Waterway Women Group Show, Juno Beach Town Hall
2003 One-Person show, Amici's Living Room, Berkeley, MI
2003 Michigan Watercolor Society Exhibition and Traveling Show
•2003 Martin County Juried Exhibition, Stuart, Florida
2003 Waterway Women, Supreme Court Building, Tallahassee, Fl.
2002 Waterway Women Group Show, Profile Gallery, Stuart. Florida
•2002 Martin County, Florida, Artsfest -Honorable Mention
•2002 Michigan Watercolor Society Annual Show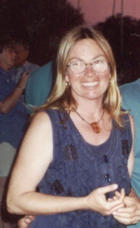 ACTIVITIES
Ms. Thomas has been drawing and painting since early childhood.

This interest continued

throughout her college

life where she earned a Bachelor's degree in Art Education and Fine

Arts.

Her interests extended into ceramics, weaving, sculpture, jewelry, and especially batik

which she exhibited in the Ann Arbor Art Fair in the early 70's.

In more recent years her
focus has changed to photography and watercolor.
Since 1992, Marilynn and her husband have lived on their sailboat in
Florida
during the
winters, occasionally cruising the
Intracoastal Waterway
and to the
Bahamas
.

This has given
her ample opportunity further develop her photography skills and has resulted in much
material for her watercolors.
Marilynn began exhibiting her watercolors in at local and regional art fairs in 2000, receiving
recognition for her work in both
Michigan
and
Florida
.